Apartamento
MAESTRANZA 2.[CONJUNTO 2 LLAVES]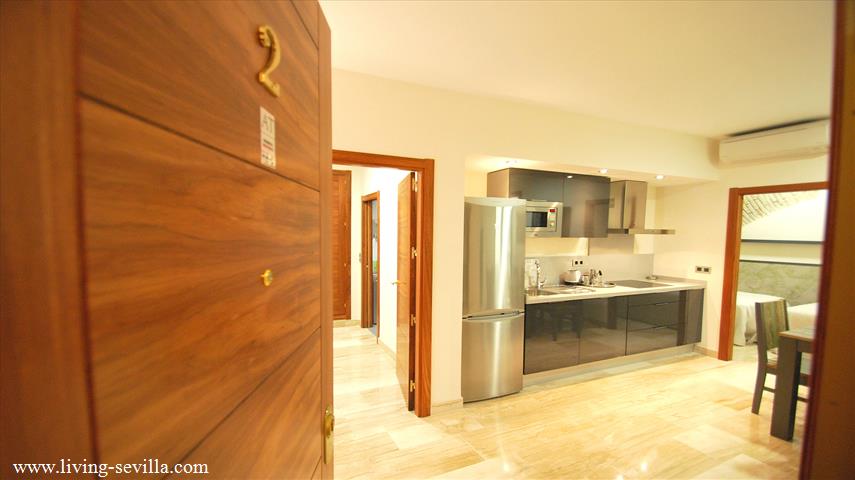 ---
Eigenschaft:
---
Beschreibung
Brand new apartment in a building with history and origin of the nineteenth century, situated in the neighborhood of el Arenal, next to the Plaza de Toros de la Maestranza. Ideal for couples, families and groups of friends. One will find all of the most important locations just in a walking distance: the Cathedral and Giralda Tower, the Alcazar, Santa Cruz neighborhood, City Hall and Plaza Nueva, the Archive of the Indies, the Golden Tower, Paseo de Colón, Triana neighborhood, Museum of Fine Arts, shopping area ... Excellent place to enjoy the Holy Week celebrations, bullfighting and April Fair.

The building is listed and protected by the "Special Protection Plan of the Historic Seville". The original facades and type of covers has been respected, original colours has been recovered and its interior is following a special organizational scheme and a historic style. Some of the original elements of the building (from the period it has been builded in) has been left. Built with a high quality materials: marble floors, double glazed windows and balconies, noble wood interior carpentry, designer bathrooms. All of the rooms are air conditioned and equipped with designer furniture and other assets needed for a comfortable stay of our guests: fridge, freezer, hob, microwave, washing machine, coffee machine, kettle, toaster, blender, juicer, cutlery, crockery, television with satellite (international channels), free wifi, bed linen and towels, hairdryer and safe.

The apartment is located on the first floor and has a big living room with two balconies to the street and a double sofa bed, kitchen-dining area, spacious master bedroom with two twin beds, bathroom with a shower and a balcony to the street. Secondary bedroom has two single beds and a bathroom with a shower.
---
Minimum Nummer des Tages: Minimum Tage bevor der Ankunft:
Es gibt einen Konflikt mit einer anderer Reservierung.
Dienstleist.
Kinderbett
Tier
Parking
Transfer
Reinheit
Vorname:
Thema:
Kommentar:
Error en solicitud.
Telefonnummer
E-mail:
Validierung:
Der Antrag ist korrekt geschikt worden. In weniger als 24 Stunden werden Sie eine Antwort bekommen.
TOTAL PREIS Reservierung:

?

€
(
?

€

/ Person/Nacht

)
Total Reservierungsnächte :
Ankunftdatum
Ausgangdatum
Total Kunden:

Gerade berechnen…

+

X

:

Gerade berechnen…

€ x Nächte = €

Tierunterkunft

Gerade berechnen…

€ x Nächte = €

Parkingplatz

Sparsangebot:

€
TOTAL PREIS:

Gerade berechnen…

€
Buchungszahlung zu begleichen

Gerade berechnen…

€
Betrag zur zahlen am Ankunftstag

Gerade berechnen…

€
Kaution (rückzahlbar)
+

Gerade berechnen…

€
Kundendaten
E-mail:
E-mail: *
Vorname:
Kennwort
Telefonnummer:
Validierung:
Willkommen
Verfehlt Anmeldung
Zahlungsmethode
Kredtikarte PayPal Telefonnummer Banküberweisung
Wir haber Ihnen eine e-mail geshickt, in der wir
Es necesario enviar comprobante de la transferencia
Reservamos el alojamiento solamente cuando hayamos recibido el comprobante de la transferencia bancaria.
La Confirmación de Reserva se le enviará una vez hayamos recibido el pago de la transferencia.
Sie müssen Ihre Daten überprüfen, um den Reservierungsprozeß abzuschließen. Überprüfen Sie, ob sie korrekt sind, und Klicken bestätigen.
Vorname:.:
Name:.:
E-mail:.:
Telefonnummer.:
Personalausweis.:
Geburts Jahr.:
Stadt.:
Staat.:
Information über die Buchung :
Danke.
Fehler in der Speicherung.